I haven't enjoyed a good read for ages, mainly because I've developed a whole bunch of "floaters" in my eyes and, combined with the varifocals, have made reading a bit of a chore. However, the good news after a visit to the hospital is that I've just got fat eyes and no other problems! Actually it means that, with age and myopia, the eyes tend to squash a bit and stretch the jellied layer causing a few tears (as in "rip", not "weep"). I've also rooted out a pair of my old specs which make close work clearer, so hurrah! back to a happy hobby.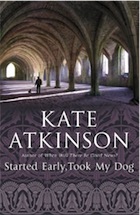 I celebrated by reading "Started Early, Took My Dog" by Kate Atkinson and can thoroughly recommend it. Some of Kate's books feature a detective called Jackson Brodie, who has had one hell of a life but somehow stumbles on. This one is no exception but Jackson is only one of a number of finely drawn, interacting characters who all do something for the best and learn that even good deeds have consequences. It's bitter-sweet with some very interesting moral dilemmas and great writing.
I've also done a bit of detailed sewing too. I found this beautiful scrap of fabric in the nearby soft furnishing shop and it was just calling out to be embroidered into and made into a little bag. I quilted it and used gold thread stitching around the edge of the circles and some of the flowers then added a variety of black, copper and gold beads and sequins.
The lining is ivory silk-like fabric and the catch is a little frog fastening I was given in a big bag of buttons. The handle is a plait of black beads, navy ribbon, ivory ribbon and a gold chain. I'm really pleased with it and it only cost me £1.
Front
Back (or front if you prefer...)